Pilot Information

Ground Transportation
There is one courtesy car that is available on a first come, first serve basis. Rental cars are also available from Avis through the link below. Contact Utah Aviation Services at 801-798-9888 for more information.
KPVU Class D Airspace
Be sure you are familiar with Provo's class delta airspace boundaries to the Northwest. Traffic permitting, Provo Tower controllers are accomodating to arrivals on rwy 12 and departures on rwy 30.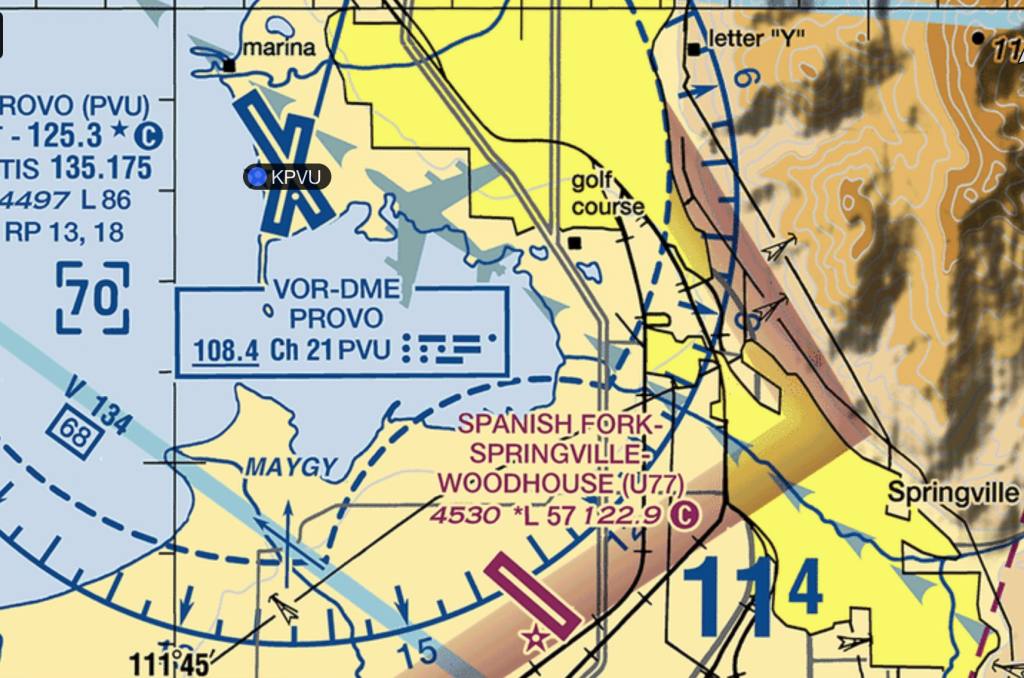 Fixed wing traffic patterns
Standard (Left) for both runways 12 and 30 at 5500' MSL (1000' AGL.)
Rotary Aircraft traffic patterns
Right on Rwy 30 and Left on Rwy 12 at 5000' MSL (500' AGL.)
**To alleviate confusion please always designate whether you are using a right or left traffic pattern in every call.**
Practice Area
The Entire area around Utah Lake, including the airport itself is part of the "South Practice Area."
Utah Valley University's flight training department has split it up into 8 areas shown on the map below.

For a larger .pdf file of the map, click here.
The file is not of a current chart and should not be used for navigation.
Flight following from Salt Lake Approach on 118.85 is advised. Nearly all UVU training operations will be on this frequency. The use of the air to air frequency, 122.75 is for use in all practice areas save those East of West Mountain where the local Spanish Fork CTAF 122.9 is to be used.

Please remember that rule #1 is always, SEE AND AVOID.
Tiedowns and Transient Parking
Transient Parking tie downs are marked and located next to office/restrooms by fuel pump. Others are those closest to the runway. For more information please contact the airport Manager.

All other tie down locations are assigned.

For larger aircraft please contact the Airport Manager for a tie down location or hangar information.

100ll fuel is available with a credit card at the pump by the restrooms. Other payment options can be arranged with Utah Aviation, the FBO.

All Jet A fuel is dispensed from their truck. Contact Utah Aviation at 801-798-9888 to arrange for fuel delivery.

A crew car is also available, contact Utah Aviation for more information.
Noise Abatement
Please also be aware that there is a large animal veterinary clinic located just North of the Northwest end of the runway. For right turnout or North departures from runway 30, please either turn by midfield or at least 1/2 mile after the end of the runway. Your cooperation is appreciated.
Should you have any other questions please contact either the airport manager, one of our local flight schools (Air Gyro, Platinum Aviation or Utah Helicopter for rotary.) or the FBO (Utah Aviation.) Contact information available on the Businesses Page.
Also feel free to join us the last Thursday of each month at 7:00 p.m. at Diamond Flight Center for a pilot safety meeting. See the Latest News Page for more information.
For more information and resources go to www.airnav.com/airport/u77